Hospitality and tourism management
is a vast industry with many different career paths. Students seeking a degree in hospitality and tourism management is prepared to enter nearly any segment of the industry, such as lodging, hotels, restaurants, casino, cruise line operations, resorts and spas, event management, or airline catering. Students are provided the knowledge and competences needed to successfully manage a restaurant, hotel, or an independently-owned hospitality or tourism business. Studying Hospitality and Tourism Management opens the door to a variety of sought-after careers including resort management, travel consultancy, tourist attractions and hotel management.
The hospitality industry is increasingly focused on international visitors and is looking for ways to partner with the tourism industry. Managers with knowledge of both sectors, and an ability to tailor hospitality services for overseas visitors, are in great demand in the overseas.You will be encouraged to find a future career by studying a range of specialist subjects such as destination management, international travel operations and hospitality operations management. 
Hospitality management and Tourism is the study of the hospitality industry. Hospitality management covers hotels, restaurants, cruise ships, amusement parks, destination marketing organizations, convention centers, country clubs and many more.
Program content
Financial Accounting

General Education – Global

Perspective: Principles of Microeconomics

Hospitality and Tourism Management F

undamentals                

Lodging Operations Analytics and Management

Information Systems & Technology

Ideas and Business Planning

Business Planning and Professional Development

General Education Mathematical Perspective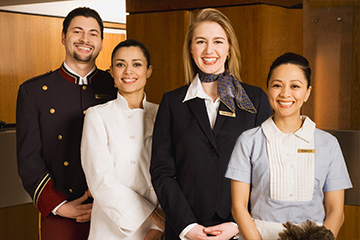 Hospitality & Travel Jobs
Hotel Manager

Casino Restaurant Director

Restaurant Manager

Travel Manager

Food and Beverage Manager

Chef

Banquet and Room Sales Head